Given a mop and vacuum, almost anyone can clean your building. But it takes a professional company to ensure consistent high-quality service-the kind of service that maintains not only your facility but your image, safety, health, and morale as well.
Customized Schedules
Each facility is as unique as your goals for it. Because of this, your personal Account Executive will work with you to

develop a maintenance schedule customized specifically for your facility's needs. Whether you're a medical center with surgical suites or an industrial plant with a clean room, our vast industry experience ensures that you'll receive the appropriate services at the right frequency!
Customized Options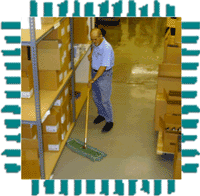 Don't you hate it when your car mechanic tells you that something else needs to be fixed after they finish a repair? Then we'll bet like many of our facility managers, you hate it when your cleaning company says you need to purchase additional services such as floor refinishing or carpet cleaning, to keep your workplace really clean.
We both know that these services do have to be performed periodically, but why can't you be informed ahead of time so that the month's budget isn't overwhelmed? That's why we offer customized plans with different options-everything from routine carpet cleaning to daily dishwashing. That translates into one predetermined invoice per month. And because we contract all the services up front, you save considerably!